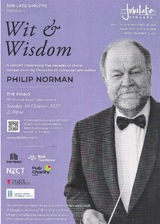 Wit & Wisdom
30th October 2022
The Music of Philip Norman CNZM
From organs to orchestras, car horns to choirs, ballads to ballet, Philip Norman's compositions span the breadth of the performing arts. This concert celebrates and records highlights from the many choral and musical theatre songs he has written while living in Christchurch.
It includes selections from Footrot Flats, New Zealand's most successful stage musical co-written with Roger Hall and A. K. Grant; songs from shows as diverse as Love Off the Shelf, which broke box office records in England and New Zealand, the rollicking student operetta from 1976, A Stab in The Dark, and The Great Art War, a succès d'estime at the Court Theatre post-earthquake.
Collaborations with Margaret Mahy are represented by 'Tarragon Vinegar', familiar to all involved with this year's Christchurch Schools' Music Festival, along with thought provoking reflections on World War I in Pro Patria commissioned by the Christchurch City Choir.
Conducted and compèred by the composer, Wit & Wisdom promises to be a warm-hearted romp through five decades of music-making: ideal for either awakening memories in Christchurch concertgoers, theatre aficionados and choristers of old, or for introducing to those unfamiliar with his writing, the wit, wisdom and charm of his considerable musical output.
A Complete Absence of
WIT & WISDOM
This book, a hugely entertaining collection of articles and talks by Philip Norman, will be launched at the concert and available in the foyer for purchase or perusal. An ideal Christmas gift for the undiscerning reader, $30.
In it, while rocketing towards decrepitude (one of his chapter titles), Philip reveals an energetic and productive life as a composer, lyricist, writer and conductor in a land as far from the world's cultural centres as it is possible to be.
Sir Arthur Sullivan: A musical portrait
25th February 2023
A concert that puts the spotlight on a composer who wrote much more than a string of phenomenally popular comic operas in association with his librettist WS Gilbert. With the participation of the Risingholme Orchestra and soloists, the programme features perennial favourites from a number of these operas – including The Pirates of Penzance, HMS Pinafore and The Mikado.
We also showcase a number of Sullivan's works for orchestra, and for orchestra and choir, among them the first movement of his Symphony in E ("Irish"); choral excerpts from his incidental music to King Arthur; and his Boer War Te Deum.
Prepare to be surprised as well as entertained.
Saturday, 25 February 2023, 2pm
Venue: The Piano, 156 Armagh Street, Christchurch