Concerts.
The next concert will be shown here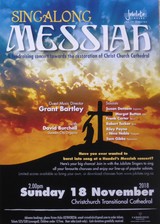 The Jubilate Singers' Singalong Messiah
18th November 2018
"Have you ever wanted to burst into song at a Handel's Messiah concert? Here's your big chance! Join in with the Jubilate Singers to sing all your favourite choruses and enjoy our line-up of popular soloists. (limited scores available so bring your own, or download choruses below.) "
A Fundraising concert for the Restoration of the Christ Church Cathedral.
Date & venue details:
2.00 pm until 5pm, Sunday 18 November, 2018, Christchurch Transitional Cathedral
Guest Music Director: Grant Bartley
With: David Burchell, Dunedin City Organist
Soloists: Susan Densem – Soprano
Margot Button – Alto
Frank Carter – Tenor
Robert Tucker – Bass
Riley Payne & Nina Noble - Trumpets
Sam Gibbs - Percussion
Ticketing details:
Advance bookings: phone Vivien Hicks 0278428236: email vivienhicks@gmail.com to order tickets. Tickets $25/$20 (unwaged). Children under 12 free. Door sales (cash only). Cash donations gratefully received.