Concerts.
The next concert will be shown here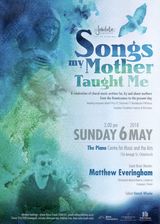 Our first 2018 concert features guest Musical Director, Matthew Everingham, with an exciting programme entitled: 'Songs my Mother Taught Me'.
6th May 2018
While our regular Musical Director, Susan Densem, has taken sabbatical leave for the year, the Jubilate Singers has taken the opportunity to offer this role to special guest musicians. First up is Matthew Everingham, Christchurch based musical director, conductor, composer and pianist, who has put together a delightful programme of choral music written for, by and about mothers from the Renaissance to the present day.
Matt attended St Bede's College, the University of Canterbury and Trinity College, London. Matt's first encounter with the Jubilate Singers was with the Court Theatre's production 'The Events' in 2016. He recently completed a successful season at the Court as Deputy Musical Director for 'Chicago', and is currently in rehearsals for the Showbiz production 'Wicked'. Read more about Matt at www.everinghammusic.com or www.facebook.com/matt.everingham.pianist
Songs my Mother Taught Me will be performed at 2.00pm on Sunday 6 May, 2018, at the Piano, Centre for Music and the Arts, 156 Armagh Street, Christchurch.
Advance bookings: phone Steve French 3586161 or email srjfrench@xtra.co.nz .
Tickets $25/$20 (unwaged), includes afternoon tea. Children free. Door sales (cash only).
Diary this event now and make up a family party, including your Mum, to attend this special feast of music!