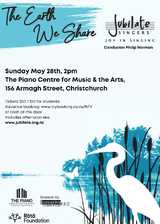 The Earth We Share
28th May 2023
Jubilate Singers present unplugged, purely choral, presenting haunting and compassionate music in support of our environment.
A tribute to the diversity of life on Earth, long may it last.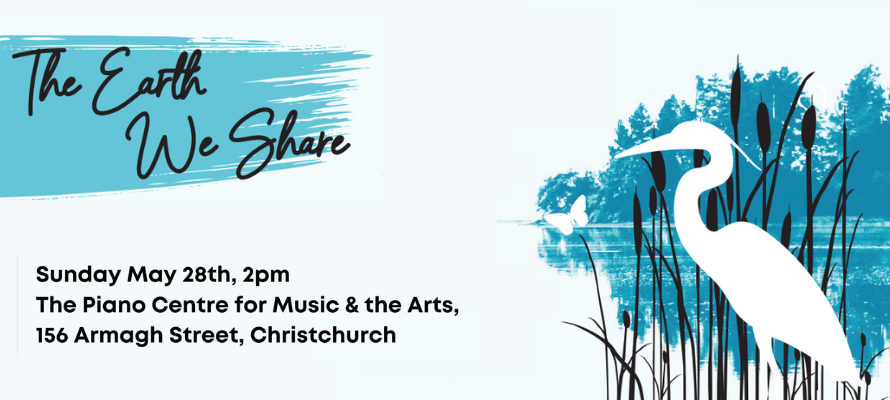 Programme highlights:
Earth Song
Frank Ticheli (b. 1958 USA)
A prayer expressing a longing for inner peace in a world full of strife.

Le Chant des Oiseaux
Clément Janequin (1485-1558 France)
An enchanting montage of Renaissance birdsong.
The Deer's Cry
Arvo Pärt (b. 1935 Estonia)
A plaintive setting of 'Saint Patrick's Breastplate', a traditional Irish prayer for protection.
Magic Songs 'Humans may speak, but nature sings'
Murray Schafer (b. 1933 Canada)
A provocative statement about the impact of humankind on the environment with the hope of achieving restoration.
Stars
Erik Esenvalds (b. 1977 Latvia)
With rubbed glasses and Tibetan singing bowls. Words by Sara Teasdale. An ethereal work in the 'mystical music' oeuvre that lifts the listener to a place of calm.
The Peaceable Kingdom
Randall Thomson (1899-1984 USA)
A work based on the paintings of artist Edward Hicks exploring the theme of peaceful coexistence with wild animals.
Sir Arthur Sullivan: A musical portrait
25th February 2023
A concert that puts the spotlight on a composer who wrote much more than a string of phenomenally popular comic operas in association with his librettist WS Gilbert. Performed with the Risingholme Orchestra and soloists, the programme features perennial favourites from a number of these operas – including The Pirates of Penzance, HMS Pinafore and The Mikado.
Also showcased are a number of Sullivan's works for orchestra, and for orchestra and choir, among them the first movement of his Symphony in E ("Irish"); choral excerpts from his incidental music to King Arthur; and his Boer War Te Deum.
Prepare to be surprised as well as entertained.
Saturday, 25 February 2023, 3pm
Venue: The Piano, 156 Armagh Street, Christchurch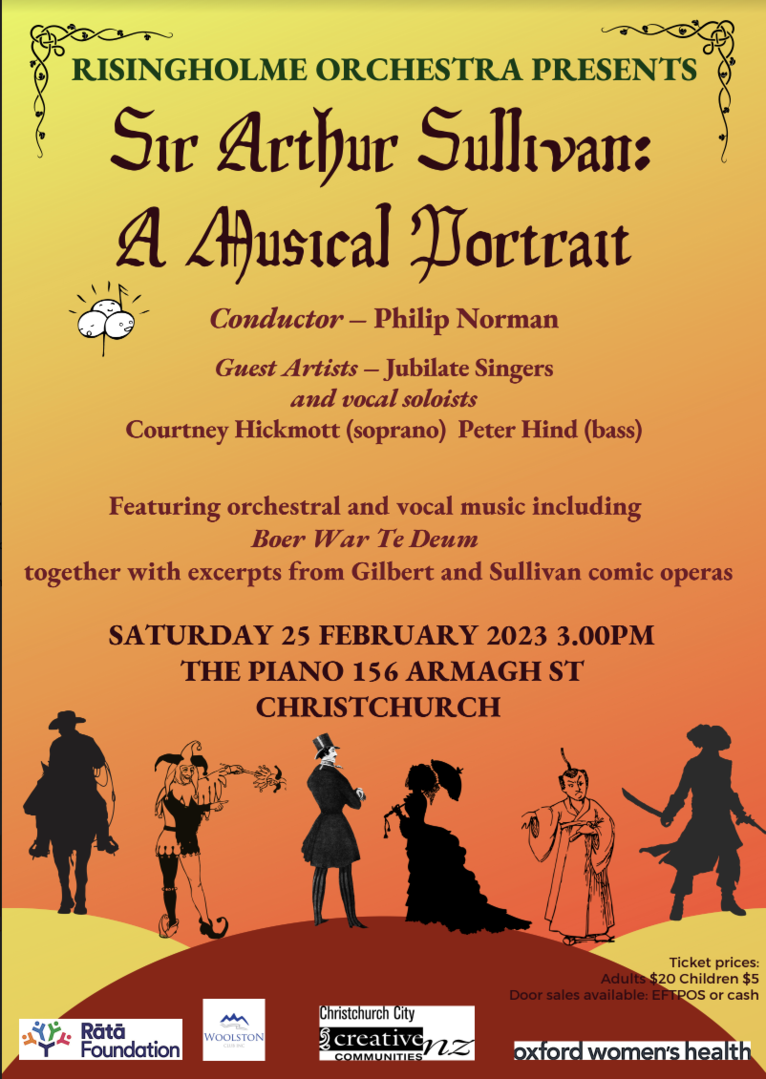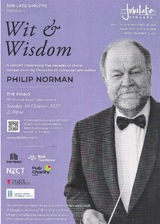 Wit & Wisdom
30th October 2022
The Music of Philip Norman CNZM
From organs to orchestras, car horns to choirs, ballads to ballet, Philip Norman's compositions span the breadth of the performing arts. This concert celebrates and records highlights from the many choral and musical theatre songs he has written while living in Christchurch.
It includes selections from Footrot Flats, New Zealand's most successful stage musical co-written with Roger Hall and A. K. Grant; songs from shows as diverse as Love Off the Shelf, which broke box office records in England and New Zealand, the rollicking student operetta from 1976, A Stab in The Dark, and The Great Art War, a succès d'estime at the Court Theatre post-earthquake.
Collaborations with Margaret Mahy are represented by 'Tarragon Vinegar', familiar to all involved with this year's Christchurch Schools' Music Festival, along with thought provoking reflections on World War I in Pro Patria commissioned by the Christchurch City Choir.
Conducted and compèred by the composer, Wit & Wisdom promises to be a warm-hearted romp through five decades of music-making: ideal for either awakening memories in Christchurch concertgoers, theatre aficionados and choristers of old, or for introducing to those unfamiliar with his writing, the wit, wisdom and charm of his considerable musical output.
A Complete Absence of
WIT & WISDOM
This book, a hugely entertaining collection of articles and talks by Philip Norman, will be launched at the concert and available in the foyer for purchase or perusal. An ideal Christmas gift for the undiscerning reader, $30.
In it, while rocketing towards decrepitude (one of his chapter titles), Philip reveals an energetic and productive life as a composer, lyricist, writer and conductor in a land as far from the world's cultural centres as it is possible to be.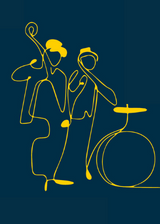 Fabulous Folk
6th August 2022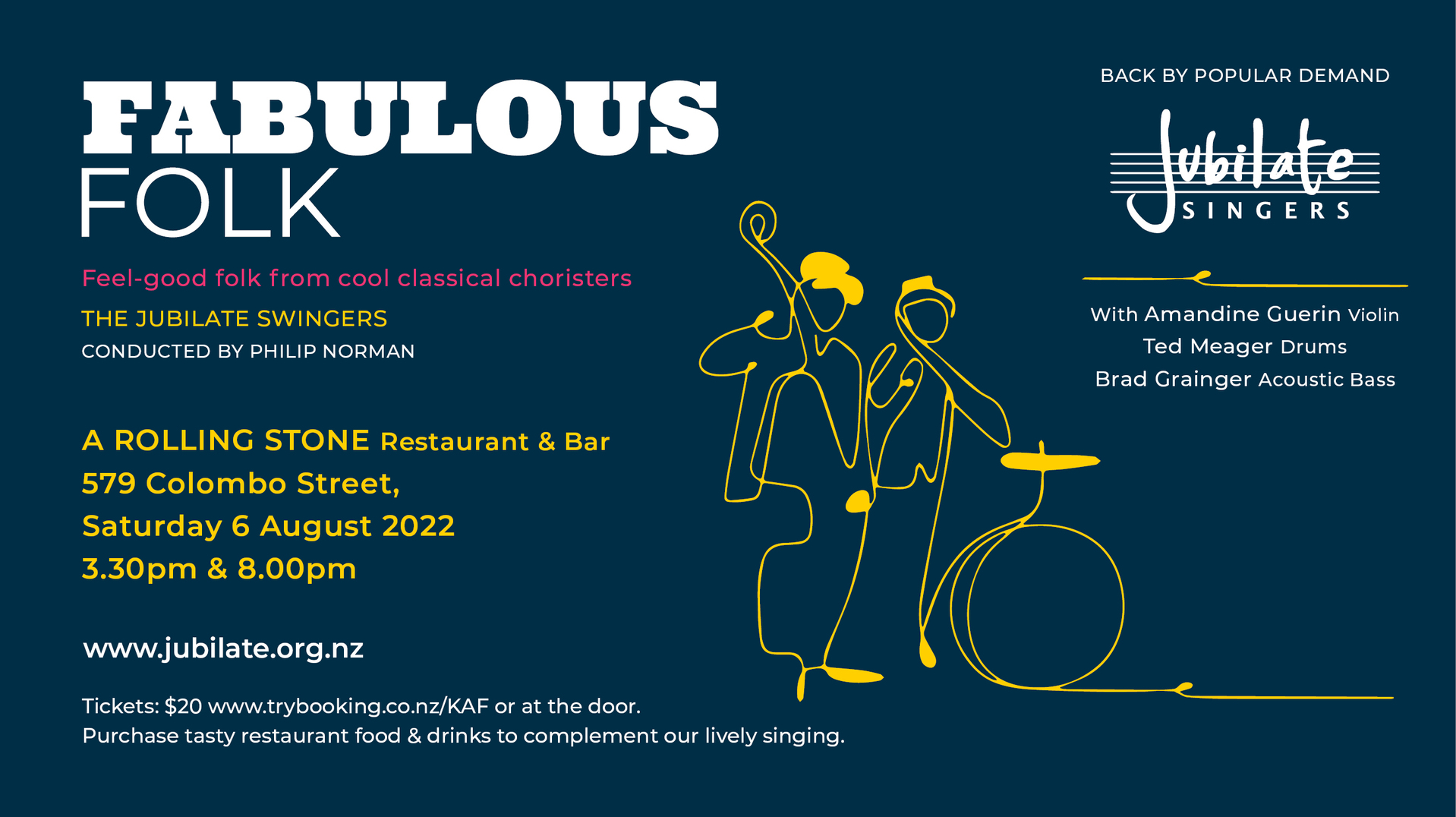 Join us for an entertaining programme of international folk songs in the format of our popular Jubilate Swingers gigs. There's a bit of something for everyone, with a lively range of old favourites and new tunes.
Fabulous Folk will be conducted by Philip Norman and accompanied by our talented guest musicians Amandine Guerin (violin), Ted Meager (drums), and Brad Grainger (acoustic bass).
Event Details:
Saturday, 6th August 2022
Performances at 3:30pm and 8pm
Venue:
A Rolling Stone Restaurant and Bar
579 Colombo Street
Christchurch Central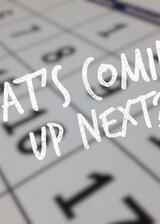 Concerts Planned for 2022
21st March to 30th April 2022
Saturday 30 April - "The Earth We Share" at the Piano Centre for the Music and Arts
Saturday August 6 - "Fabulous Folk" at A Rolling Stone Restaurant and Bar
Sunday October 30 - "Philip Norman Retrospective Choral Works" at the Piano Centre for the Music and Arts, to be recorded by SOUNZ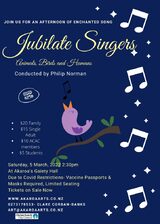 Animals, Birds and Humans
5th March 2022
ACAC is excited to be able to offer a varied and classy a cappella choral concert by the nationally acclaimed Jubilate Singers of Christchurch, under the direction of Philip Norman (CNZM).
"Animals, Birds and Humans" explores works around the theme of nature and encompasses music from the 16thC through to the 21st C, including composers such as Adriano Banchieri, Arvo Part and Billy Joel.
This concert will appeal to a broad range of listeners.
With Philip Norman's engaging presentation, we have endeavoured to provide a family friendly afternoon of magical music to transport you beyond our shores.
All care will be taken within government requirements so numbers are limited. Book your ticket today to ensure you don't miss out.
Saturday, 5 March, 2022 2:30pm
At Akaroa's Gaiety Hall
Due to COVID restrictions - Vaccine Passports & Masks Required, Limited Seating
Please email art@akaroaarts.co.nz for more details, or phone Clare Corban-Banks on 027 317 8533
To secure tickets for this concert, download the form by clicking –
Print and sign ONE of the forms, then post or scan it and email back to ACAC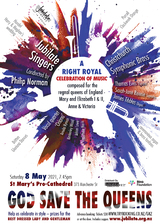 God Save the Queens
8th May 2021
A right royal celebration of music composed for the ruling queens of England – Elizabeth I and II, Mary I and II, Anne and Victoria.
Conducted by Philip Norman.
With Christchurch Symphony Brass: Thomas Eves, Barrett Hocking, Eva Bedggood trumpets; Karl Margevka, Pablo Ruiz Henao and Flynn Megaw trombones.
Oriana vocal quartet: Amelia Ryman, Kimberley Wood, Matt Halverson and Matthew Harris.
Soprano solo Sarah-Jane Rennie, organist John Linker, and percussionists Brett Painter and Vicki King.
Includes supper.
Dressing up for the Queens is encouraged but optional.
Venue: St Mary's pro-Cathedral, 373 Manchester St, Christchurch

Start: 7.45pm
Ticketing website: https://www.trybooking.co.nz/GKZ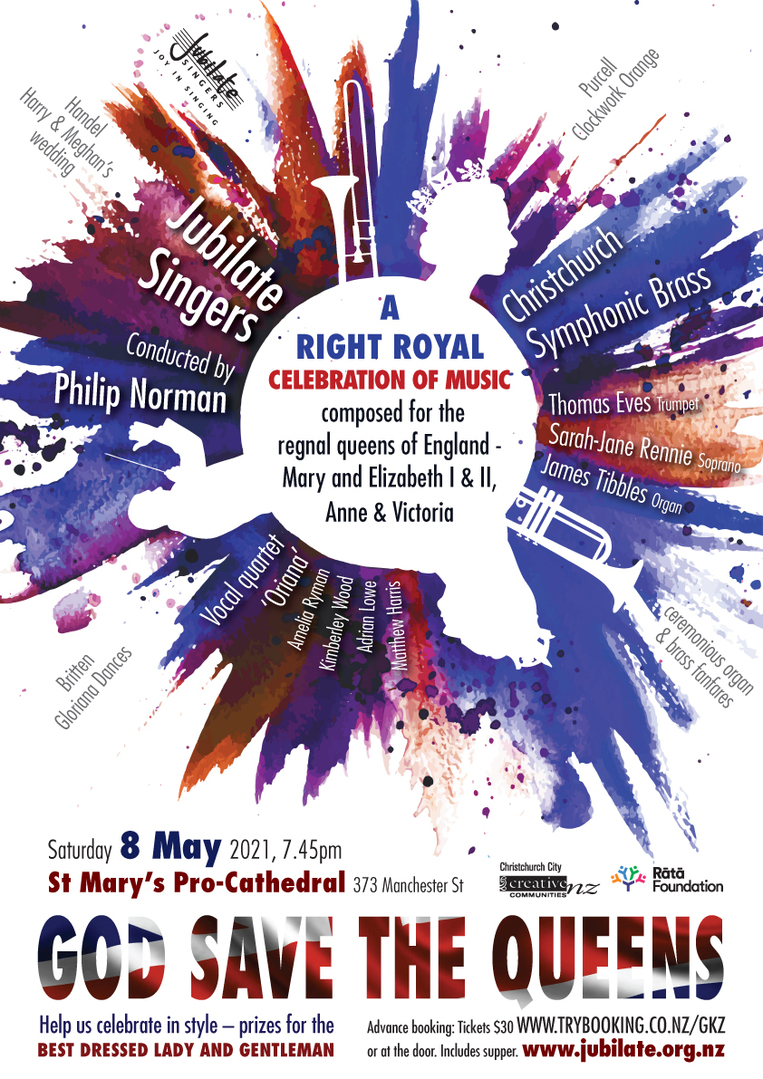 Whether by awe, devotion or the prospect of patronage, they have inspired the creation of extraordinarily beautiful music. They are the regnal Queens of England:
Mary I – 'Bloody Mary', the last of the Catholics 1553-1558
Philip van Wilder's ethereal Pater Noster
Elizabeth I – 'The Virgin Queen', the last of the Tudors 1558-1603
Three choice madrigals, by Morley, Bennet and Weelkes from The Triumphs or Oriana
Mary II – 'The Princess of Orange', the House of Stuart 1689-1694
Purcell's glorious Sound the Trumpet and deeply moving Funeral Music for Queen Mary II
Anne – 'Brandy Nan', the last of the Stuarts 1702-1707
Handel's exquisite Eternal Source of Light Divine and triumphal United Nations Shall Combine
Victoria – 'Little Vic', the last of the Hanovers 1837-1901
'A Fanfare for Victoria' – from Arthur Sullivan's Victoria and Merrie England, and two warm-hearted 80th birthday songs, A.M. Goodhart's Lady on the silver throne and Walter Parratt's The Triumph of Victoria
Elizabeth II - 'Lillibet', the House of Windsor 1952-
The zest of Malcolm Arnold's Fanfare for a Royal Occasion, the animation of Benjamin Britten's Choral Dances from Glorianna and the magisterial Coronation Te Deum by William Walton
Plus Handel's Zadok the Priest
Matthew Locke's Music for His Majesty's Cornetts and Sackbuts
And of course… God Save the Queen (Gordon Jacobs's coronation arrangement).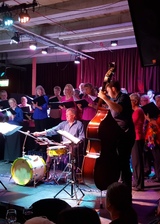 5 DECEMBER: Fooling Around!
5th/6th December 2020
Door sales - cash only ($15)
Fooling Around! More hot choral jazz from cool classical dudes as the Jubilate Swingers rock up to the Rolling Stone Restaurant and Bar for a second fling with swing, funkadelic folk and a cappella awesomeness. Cabaret seating ensures a companionable time out in the company of imaginatively arranged classic songs and an available compere. Bookings advised as last time both performances were full.
Two performances: 3.30pm and 7.30pm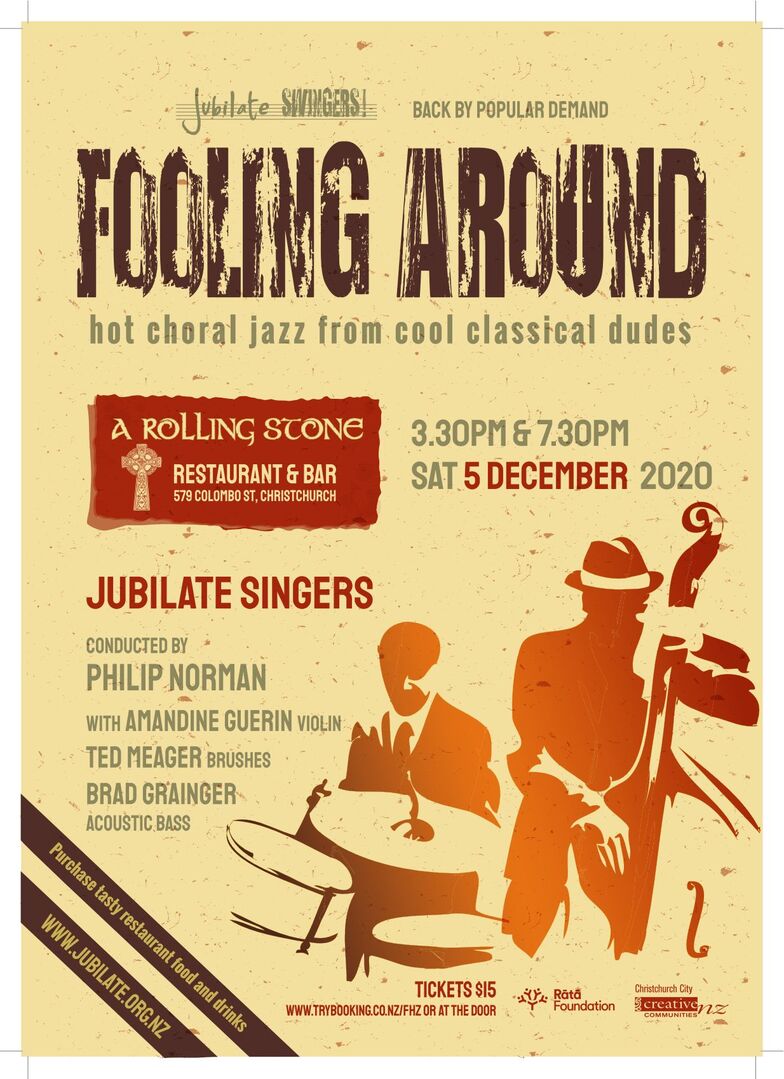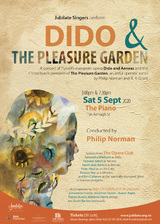 Dido & The Pleasure Garden
5th September 2020
We are delighted to say that WE ARE GOING AHEAD with this fantastic concert. $30 Tickets will be limited due to Covid level 2 restrictions so get in quick.
Putting the 'Oh' in Opera.

Presenting two very different experiences of this beloved art form - a timeless favourite, Dido and Aeneas and an artful romp about Francis Hodgkin's 'Pleasure garden' painting.
Conducted by Philip Norman.

Purcell's Dido and Aeneas has something for everyone - a doomed love affair, evil schemes, wild carousing and supernatural effects, culminating in one of the most cherished arias in the history of opera, Dido's lament: "When I am laid in earth may my wrongs create no trouble, no trouble in thy breast."
This is followed by Philip Norman's The Pleasure Garden, a comedic chamber opera about how Francis Hodgkins's painting became part of the permanent collection of Christchurch Art Gallery. A true tale of trickery, triumph and the perversity of human nature, wrapped up in a blanket of laughs. As librettist, A. K. Grant writes of the painting: "Though I'd never say it's bollocks, it simply lacks the power of a work of Jackson Pollock's."
With soloists from The Opera Club of Christchurch including Samantha Warhurst as Dido, Fernand Kenel as Aeneas, Sarah-Jane Rennie as Belinda, Peter Hind as an Art Critic, Eleanor Sim as a Minstrel and Erin Callanan as the 'spectrally dismayed' ghost of Frances Hodgkins.
Accompanied by top Christchurch musicians Amandine Guerin, Jonathan Tanner, Sharon Baylis, Tomas Hurnik, Matthew Harris (strings) and Peter Low (harpsichord).
2 performances ONLY at The Piano, 156 Armagh Street, Christchurch
Saturday 5 September, 3.00pm & 7.30pm
Tickets on sale NOW - $30
Email vivienhicks@gmail.com or Phone 027 842 8236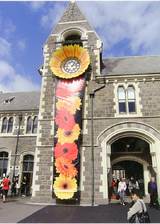 Echoes of Yesteryear
1st March 2020
A magical musical tour of selected nooks and crannies in the former Canterbury University College, now substantially restored as the Arts Centre of Christchurch. Features poetry and songs by alumni of old, along with interesting observations about the history, architecture and restoration of the buildings.
Wear sensible shoes and be prepared to climb stairs.
Featured guest: Philip Aldridge, poetry reciter and Arts Centre CEO.
Two tours: 1pm and 3pm, each limited to 50 people.
Tickets are available through The Arts Centre.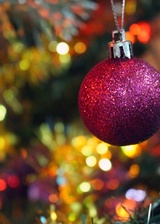 Festive Music with the Jubilate Singers
14th December 2019
Follow us as we rove around The Arts Centre presenting 30 minutes of festive songs.
This free event is suitable for all ages. No bookings are required. Entrance is free.
Date: Saturday 14 December 2019
Time: 2.00pm to 3.00pm
Venue: Throughout The Arts Centre. Meet in the North Quad, 2 Worcester Boulevard.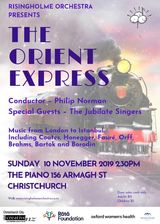 The Orient Express
10th November 2019
Risingholme Orchestra in collaboration with Jubilate Singers present:
THE ORIENT EXPRESS
Music from London to Istanbul, including Coates, Honegger, Fauré, Orff, Brahms, Bartok and Borodin.
Conductor: Philip Norman
Sunday, 10 November 2019, 2.30 pm
The Piano, 156 Armagh St, Christchurch
Door sales, cash only
Adults $15, Children $5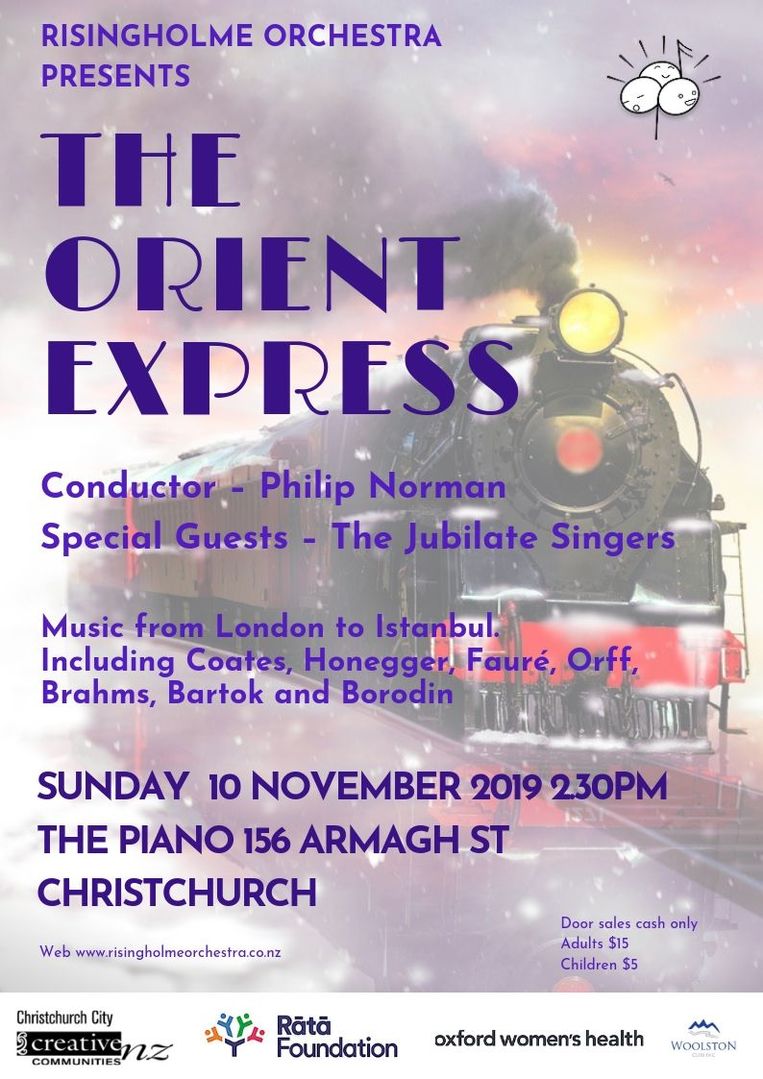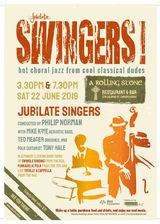 Swingers! – hot choral jazz from cool classical dudes
22nd/23rd June 2019
Sorry - Concert is sold out.

Concert times: Saturday 22nd June at 3.30pm and again at 7.30pm.
Conducted by Philip Norman, with Hamish Smith acoustic bass, Ted Meager brushes, and folk guitarist Tony Hale
in a finger clicking good tapas of Swingle Singing from the 60s, funkadelic folk from the 70s and, like totally tubular a cappella from the 80s.
See you there: 'A Rolling Stone' (restaurant and bar) 579 Colombo St, Christchurch.
Tickets/door sales $10.00. Make up a table, purchase food and drinks, and enjoy our cool music.
Advance bookings: phone Vivien Hicks 0278428236: email vivienhicks@gmail.com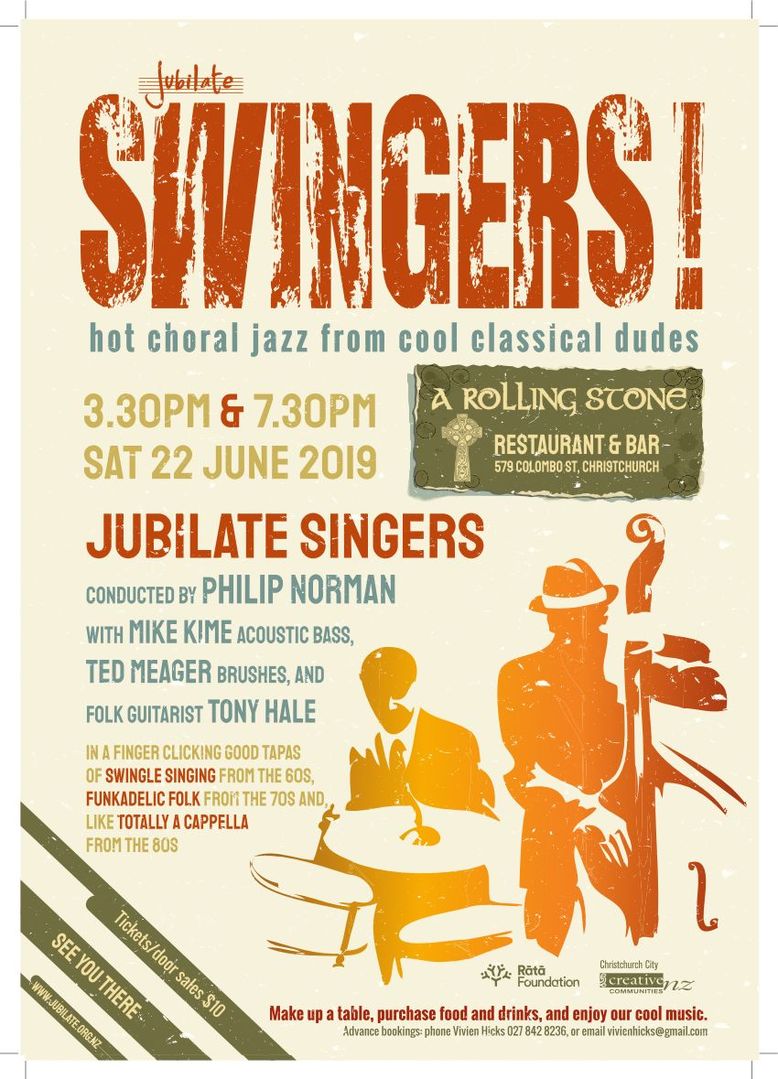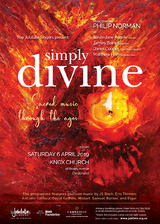 Simply Divine: Sacred Music through the Ages
6th April 2019
7.30pm, Saturday 6 April 2019, Knox Church, 28 Bealey Avenue, Christchurch 8013.
Music Director: Philip Norman
with Daniel Cooper (Knox Church organist), Matthew Harris (Double Bass) and soloists Sarah-Jane Rennie (soprano) and James Baines (baritone).
The Simply Divine music includes
Bach's finest motet Jesu Meine Freude
Eric Thiman's tender cantata The Last Supper
Mozart's glorious Laudate Dominum
Antonio Caldara's all-embracing Crucifixus a 16 voci
David Griffiths's soaring Beata Virgo
Two vocal versions of the orchestral masterpieces
Elgar's 'Nimrod' from Enigma Variations (Lux Aeterna) and
Samuel Barber's Adagio for strings (Agnus Dei)
And medieval musical aperitifs by
Hildegard von Bingen and Guillaume Dufay
Advance bookings: phone Vivien Hicks 0278428236: email vivienhicks@gmail.com to order tickets. Tickets $25 includes a post-concert light supper. Door sales (cash only).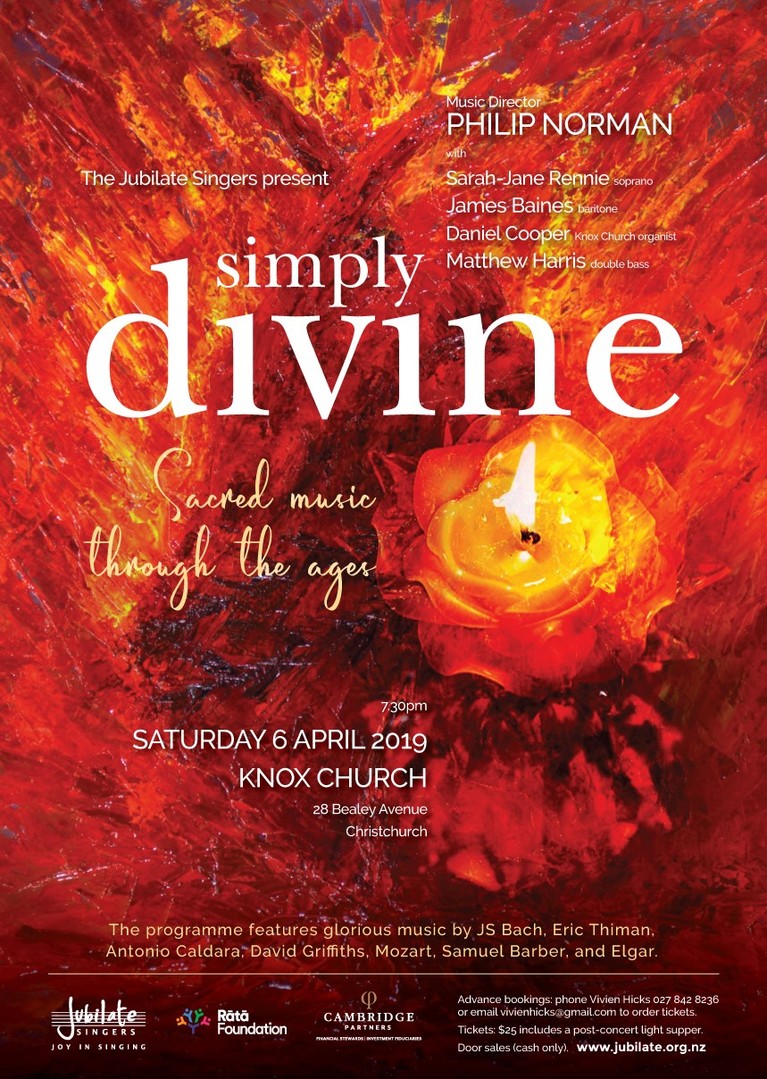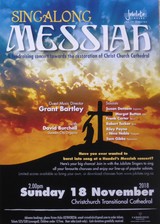 The Jubilate Singers' Singalong Messiah
18th November 2018
"Have you ever wanted to burst into song at a Handel's Messiah concert? Here's your big chance! Join in with the Jubilate Singers to sing all your favourite choruses and enjoy our line-up of popular soloists. (limited scores available so bring your own, or download choruses below.) "
A Fundraising concert for the Restoration of the Christ Church Cathedral.
Date & venue details:
2.00 pm until 5pm, Sunday 18 November, 2018, Christchurch Transitional Cathedral
Guest Music Director: Grant Bartley
With: David Burchell, Dunedin City Organist
Soloists: Susan Densem – Soprano
Margot Button – Alto
Frank Carter – Tenor
Robert Tucker – Bass
Riley Payne & Nina Noble - Trumpets
Sam Gibbs - Percussion
Ticketing details:
Advance bookings: phone Vivien Hicks 0278428236: email vivienhicks@gmail.com to order tickets. Tickets $25/$20 (unwaged). Children under 12 free. Door sales (cash only). Cash donations gratefully received.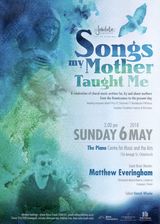 Our first 2018 concert features guest Musical Director, Matthew Everingham, with an exciting programme entitled: 'Songs my Mother Taught Me'.
6th May 2018
While our regular Musical Director, Susan Densem, has taken sabbatical leave for the year, the Jubilate Singers has taken the opportunity to offer this role to special guest musicians. First up is Matthew Everingham, Christchurch based musical director, conductor, composer and pianist, who has put together a delightful programme of choral music written for, by and about mothers from the Renaissance to the present day.
Matt attended St Bede's College, the University of Canterbury and Trinity College, London. Matt's first encounter with the Jubilate Singers was with the Court Theatre's production 'The Events' in 2016. He recently completed a successful season at the Court as Deputy Musical Director for 'Chicago', and is currently in rehearsals for the Showbiz production 'Wicked'. Read more about Matt at www.everinghammusic.com or www.facebook.com/matt.everingham.pianist
Songs my Mother Taught Me will be performed at 2.00pm on Sunday 6 May, 2018, at the Piano, Centre for Music and the Arts, 156 Armagh Street, Christchurch.
Advance bookings: phone Steve French 3586161 or email srjfrench@xtra.co.nz .
Tickets $25/$20 (unwaged), includes afternoon tea. Children free. Door sales (cash only).
Diary this event now and make up a family party, including your Mum, to attend this special feast of music!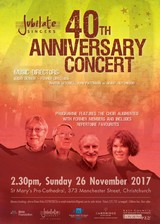 Jubilate Singers' 40th Aniversary Concert
25th/26th November 2017
It's nearly 40 years since Martin Setchell established the Jubilate Singers. Since then the choir has had a regular annual concert programme and performed with other choirs, orchestras such as the CSO and NZSO and dance groups. The choir has recorded CDs of music by New Zealand choral composers and music for television. The choir plans to celebrate our 40th anniversary over the weekend of 25/26 November 2017 with a concert and social programme. The concert will be directed by Sue Densem, our current Music Director, and will also involve her predecessors Martin Setchell, John Pattinson and Grant Hutchinson.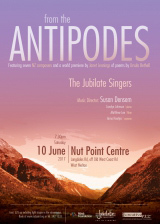 From The Antipodes
10th June 2017
The Jubilate Singers present a concert of home-grown choral music featuring seven of New Zealand's finest composers. We are proud to present the world premiere of a work for choir, soprano and flute by Janet Jennings, Magnificat from a Garden in the Antipodes, featuring poems by Christchurch poet Ursula Bethell.
The programme also includes evocative compositions by David Childs, Diane Cooper, David Hamilton, Richard Oswin, John Ritchie, and Patrick Shepherd, all inspired by poetic texts.
Music Director: Susan Densem, with Carolyn Johnson (Piano), Matthew Lee (Flute), Anna Hoetjes (Soprano).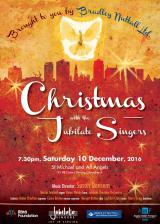 Christmas with the Jubilate Singers
10th December 2016
St Michael and All Angels Church, Oxford Terrace

Please join the Jubilate Singers as they celebrate the joy of Christmas.

A festive first half is framed by three versions of the beautiful text, O Magnum Mysterium, spanning 6 centuries by choral composing superstars Victoria, Poulenc and American Morten Lauridsen.

Martin Setchell, one of New Zealand's foremost organists, will play some exquisite French Christmas organ music.

We also feature Christchurch's foremost harpist Helen Webby, in the beautiful Spanish song El Rorro.

In the second half you will be entranced by Saint-Saens' Oratorio de Noël. We will be joined by five esteemed soloists from throughout New Zealand and the Jubilate Chamber Orchestra.

It is a festive feast of beautiful choral music for all to enjoy.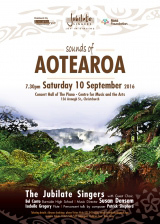 Sounds of Aotearoa
10th September 2016
7.30 pm concert with a pre-concert talk by Patrick Shepherd at 7.00pm
Concert Hall of The Piano - Centre for Music and the Arts
165 Armagh Street, Christchurch
The Jubilate Singers are celebrating the wonderful talent of our home-grown composers by performing a concert of New Zealand works. Come and hear the evocative sounds of New Zealand and enjoy our history through song.
We feature the playful Plumsong by the Jubilate Singers' patron, Phillip Norman, and the world premier of a new choral work by Christchurch composer Patrick Shepherd, setting three poems from Arawata Bill by Denis Glover.
From the haunting sounds of Helen Fisher's Pounamu, to the sublime Lord When the Sense of Thy Sweet Grace by former Jubilate Patron the late Professor John Ritchie, you will be treated to a programme of music to be proud of.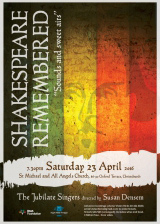 Shakespeare Remembered
23rd April 2016
…
"touches of sweet harmony"
The Jubilate Singers are celebrating the life and works of William Shakespeare on April 23rd 2016. To commemorate the 400th anniversary of his death we will perform some wonderful choral settings of his timeless texts.
Our programme covers songs from nine Shakespeare plays including the haunting 'Come Away Death' by Mἂntyjἂrvi and the playful 'Oh Mistress Mine' from Twelfth Night, to varied settings of 'Who is Sylvia', 'It Was a Lover and His Lass' and 'When Daisies Pied'. A set of songs from Othello and 'Caliban's Song' from the Tempest by New Zealand's own David Hamilton. Compositions by Vaughan Williams and William Mathias complete our concert.
We aim to delight and entertain you with music from the Bard and some instrumental interludes from Jonathan Le Cocq and friends.
"But that's all one, our play is done and we'll strive to please you..."