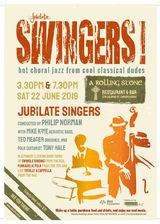 Swingers! – hot choral jazz from cool classical dudes
22nd/23rd June 2019
Sorry - Concert is sold out.

Concert times: Saturday 22nd June at 3.30pm and again at 7.30pm.
Conducted by Philip Norman, with Hamish Smith acoustic bass, Ted Meager brushes, and folk guitarist Tony Hale
in a finger clicking good tapas of Swingle Singing from the 60s, funkadelic folk from the 70s and, like totally tubular a cappella from the 80s.
See you there: 'A Rolling Stone' (restaurant and bar) 579 Colombo St, Christchurch.
Tickets/door sales $10.00. Make up a table, purchase food and drinks, and enjoy our cool music.
Advance bookings: phone Vivien Hicks 0278428236: email vivienhicks@gmail.com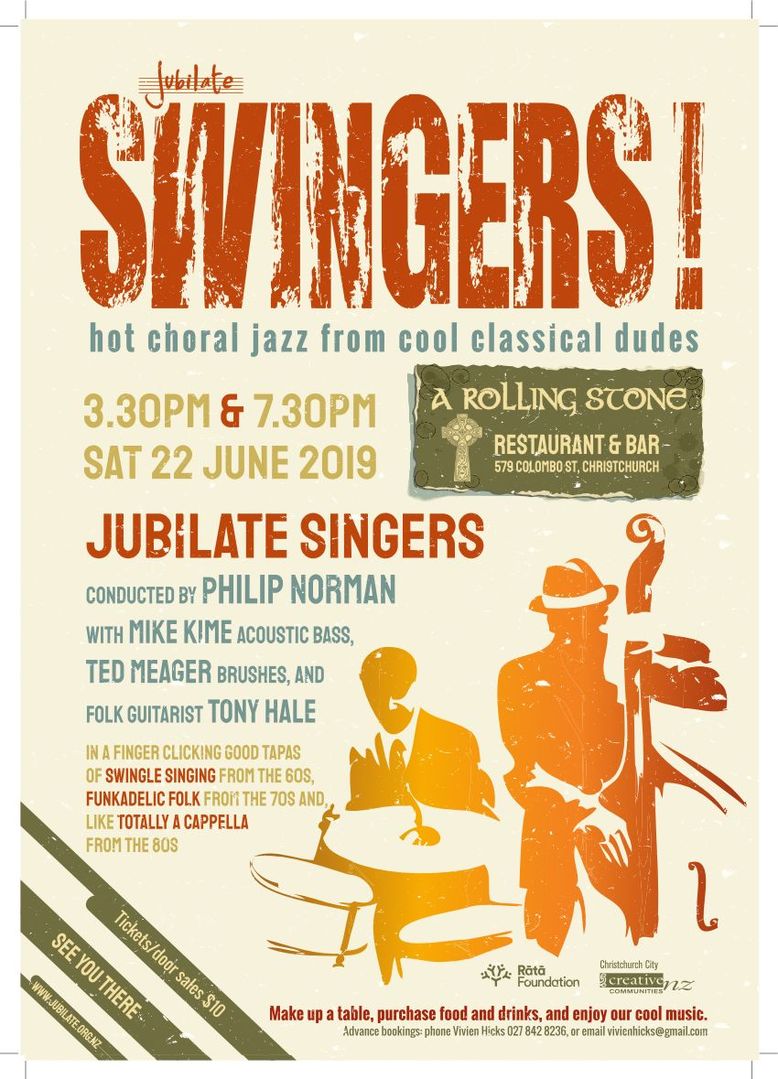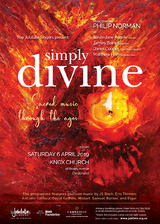 Simply Divine: Sacred Music through the Ages
6th April 2019
7.30pm, Saturday 6 April 2019, Knox Church, 28 Bealey Avenue, Christchurch 8013.
Music Director: Philip Norman
with Daniel Cooper (Knox Church organist), Matthew Harris (Double Bass) and soloists Sarah-Jane Rennie (soprano) and James Baines (baritone).
The Simply Divine music includes
Bach's finest motet Jesu Meine Freude
Eric Thiman's tender cantata The Last Supper
Mozart's glorious Laudate Dominum
Antonio Caldara's all-embracing Crucifixus a 16 voci
David Griffiths's soaring Beata Virgo
Two vocal versions of the orchestral masterpieces
Elgar's 'Nimrod' from Enigma Variations (Lux Aeterna) and
Samuel Barber's Adagio for strings (Agnus Dei)
And medieval musical aperitifs by
Hildegard von Bingen and Guillaume Dufay
Advance bookings: phone Vivien Hicks 0278428236: email vivienhicks@gmail.com to order tickets. Tickets $25 includes a post-concert light supper. Door sales (cash only).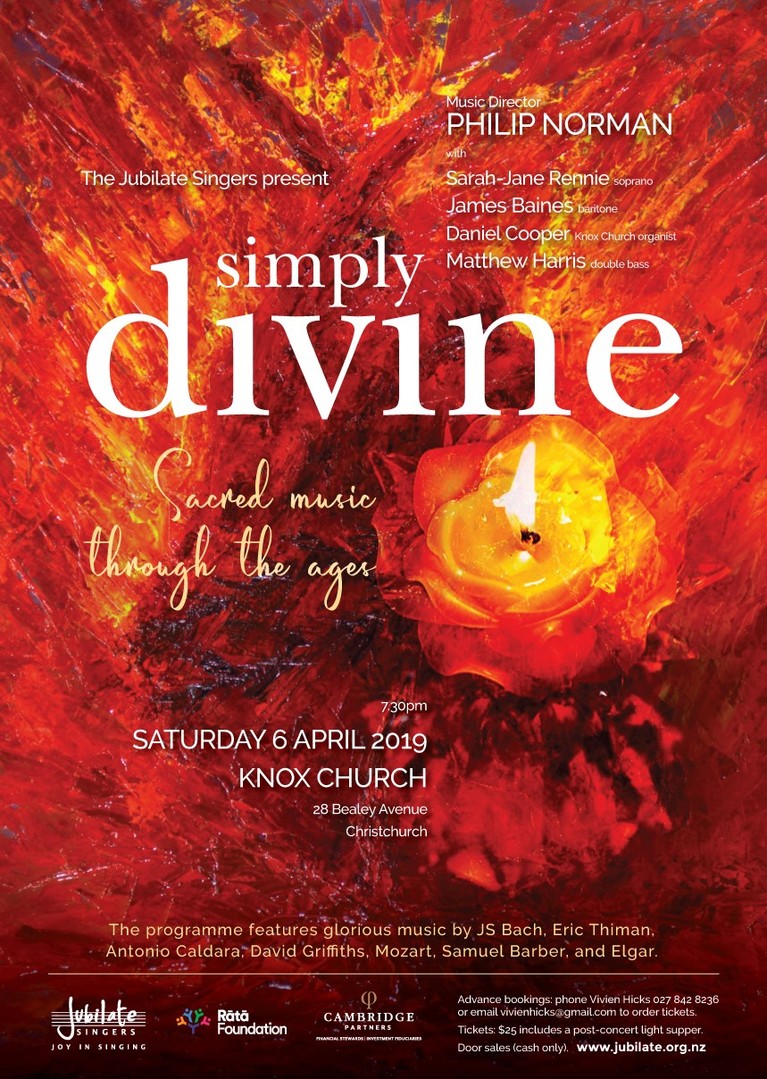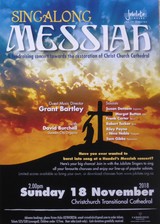 The Jubilate Singers' Singalong Messiah
18th November 2018
"Have you ever wanted to burst into song at a Handel's Messiah concert? Here's your big chance! Join in with the Jubilate Singers to sing all your favourite choruses and enjoy our line-up of popular soloists. (limited scores available so bring your own, or download choruses below.) "
A Fundraising concert for the Restoration of the Christ Church Cathedral.
Date & venue details:
2.00 pm until 5pm, Sunday 18 November, 2018, Christchurch Transitional Cathedral
Guest Music Director: Grant Bartley
With: David Burchell, Dunedin City Organist
Soloists: Susan Densem – Soprano
Margot Button – Alto
Frank Carter – Tenor
Robert Tucker – Bass
Riley Payne & Nina Noble - Trumpets
Sam Gibbs - Percussion
Ticketing details:
Advance bookings: phone Vivien Hicks 0278428236: email vivienhicks@gmail.com to order tickets. Tickets $25/$20 (unwaged). Children under 12 free. Door sales (cash only). Cash donations gratefully received.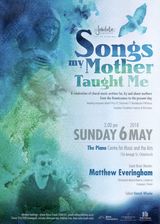 Our first 2018 concert features guest Musical Director, Matthew Everingham, with an exciting programme entitled: 'Songs my Mother Taught Me'.
6th May 2018
While our regular Musical Director, Susan Densem, has taken sabbatical leave for the year, the Jubilate Singers has taken the opportunity to offer this role to special guest musicians. First up is Matthew Everingham, Christchurch based musical director, conductor, composer and pianist, who has put together a delightful programme of choral music written for, by and about mothers from the Renaissance to the present day.
Matt attended St Bede's College, the University of Canterbury and Trinity College, London. Matt's first encounter with the Jubilate Singers was with the Court Theatre's production 'The Events' in 2016. He recently completed a successful season at the Court as Deputy Musical Director for 'Chicago', and is currently in rehearsals for the Showbiz production 'Wicked'. Read more about Matt at www.everinghammusic.com or www.facebook.com/matt.everingham.pianist
Songs my Mother Taught Me will be performed at 2.00pm on Sunday 6 May, 2018, at the Piano, Centre for Music and the Arts, 156 Armagh Street, Christchurch.
Advance bookings: phone Steve French 3586161 or email srjfrench@xtra.co.nz .
Tickets $25/$20 (unwaged), includes afternoon tea. Children free. Door sales (cash only).
Diary this event now and make up a family party, including your Mum, to attend this special feast of music!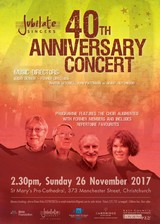 Jubilate Singers' 40th Aniversary Concert
25th/26th November 2017
It's nearly 40 years since Martin Setchell established the Jubilate Singers. Since then the choir has had a regular annual concert programme and performed with other choirs, orchestras such as the CSO and NZSO and dance groups. The choir has recorded CDs of music by New Zealand choral composers and music for television. The choir plans to celebrate our 40th anniversary over the weekend of 25/26 November 2017 with a concert and social programme. The concert will be directed by Sue Densem, our current Music Director, and will also involve her predecessors Martin Setchell, John Pattinson and Grant Hutchinson.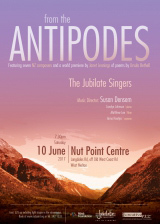 From The Antipodes
10th June 2017
The Jubilate Singers present a concert of home-grown choral music featuring seven of New Zealand's finest composers. We are proud to present the world premiere of a work for choir, soprano and flute by Janet Jennings, Magnificat from a Garden in the Antipodes, featuring poems by Christchurch poet Ursula Bethell.
The programme also includes evocative compositions by David Childs, Diane Cooper, David Hamilton, Richard Oswin, John Ritchie, and Patrick Shepherd, all inspired by poetic texts.
Music Director: Susan Densem, with Carolyn Johnson (Piano), Matthew Lee (Flute), Anna Hoetjes (Soprano).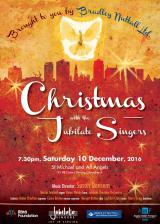 Christmas with the Jubilate Singers
10th December 2016
St Michael and All Angels Church, Oxford Terrace

Please join the Jubilate Singers as they celebrate the joy of Christmas.

A festive first half is framed by three versions of the beautiful text, O Magnum Mysterium, spanning 6 centuries by choral composing superstars Victoria, Poulenc and American Morten Lauridsen.

Martin Setchell, one of New Zealand's foremost organists, will play some exquisite French Christmas organ music.

We also feature Christchurch's foremost harpist Helen Webby, in the beautiful Spanish song El Rorro.

In the second half you will be entranced by Saint-Saens' Oratorio de Noël. We will be joined by five esteemed soloists from throughout New Zealand and the Jubilate Chamber Orchestra.

It is a festive feast of beautiful choral music for all to enjoy.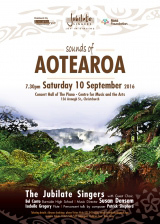 Sounds of Aotearoa
10th September 2016
7.30 pm concert with a pre-concert talk by Patrick Shepherd at 7.00pm
Concert Hall of The Piano - Centre for Music and the Arts
165 Armagh Street, Christchurch
The Jubilate Singers are celebrating the wonderful talent of our home-grown composers by performing a concert of New Zealand works. Come and hear the evocative sounds of New Zealand and enjoy our history through song.
We feature the playful Plumsong by the Jubilate Singers' patron, Phillip Norman, and the world premier of a new choral work by Christchurch composer Patrick Shepherd, setting three poems from Arawata Bill by Denis Glover.
From the haunting sounds of Helen Fisher's Pounamu, to the sublime Lord When the Sense of Thy Sweet Grace by former Jubilate Patron the late Professor John Ritchie, you will be treated to a programme of music to be proud of.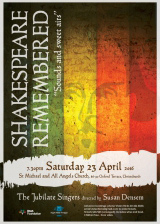 Shakespeare Remembered
23rd April 2016
…
"touches of sweet harmony"
The Jubilate Singers are celebrating the life and works of William Shakespeare on April 23rd 2016. To commemorate the 400th anniversary of his death we will perform some wonderful choral settings of his timeless texts.
Our programme covers songs from nine Shakespeare plays including the haunting 'Come Away Death' by Mἂntyjἂrvi and the playful 'Oh Mistress Mine' from Twelfth Night, to varied settings of 'Who is Sylvia', 'It Was a Lover and His Lass' and 'When Daisies Pied'. A set of songs from Othello and 'Caliban's Song' from the Tempest by New Zealand's own David Hamilton. Compositions by Vaughan Williams and William Mathias complete our concert.
We aim to delight and entertain you with music from the Bard and some instrumental interludes from Jonathan Le Cocq and friends.
"But that's all one, our play is done and we'll strive to please you..."